I'm happy to announce the next full-length installment of the BODY MOVERS series, 9 BODIES ROLLING!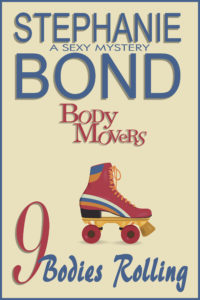 In 9 BODIES ROLLING, Carlotta Wren is still reeling over her parents' return after a ten-year absence.  After putting her life on hold for so long, she's not sure how to move forward.  Her new reality isn't exactly what she thought it would be, especially considering the altered circumstances of the three men in her life.  But her best gal pal Hannah is always there to cheer her up, and Hannah has taken up a quirky new sport—roller derby!  The matches are a colorful spectacle of bodies maneuvering to score, but the fun stops cold when a dead body rolls onto the scene.  Carlotta believes the accident is anything but—especially when skaters' bodies begin to pile up—in and out of the ring!  Could Hannah be next?
 Click here to pre-order from Amazon. 
Available at all online books (B&N.com, iTunes, Kobo, and GooglePlay) on Tuesday, May 29.  Print version and audio to follow asap!